Posted April 22, 2016
We've had a few customers ask about E85 fuel and flex-fuel vehicles, so we know there's a lot of confusion about this "gas saving" trend. So this month, we're answering common questions to clear up some of the confusion and misperception about flex fuel systems.
What is E85?
Many people associate "flex fuel" with alternative fuel sources, specifically ethanol produced from corn. Much of the gasoline sold in the US (about 1/3) contains some ethanol. A typical ratio is 90% gasoline with 10% ethanol. Ethanol flex fuel reverses that ratio, with more ethanol than gasoline – E85 gets its name because it is made with 85% ethanol to 15% gasoline.
Can I use E85 in my vehicle?
Not all vehicles are "flexible fuel vehicles," meaning they can run on both standard gasoline and E85 fuel. The only difference between standard and flex fuel vehicles are a few engine and fuel system modifications. These changes allow the engine to burn ethanol based fuel without loss in performance.
To find out if your vehicle can operate on E85, call our experts at 651-426-0462. You may also check your vehicle for a yellow gas cap, a label on the fuel door, a badge on the vehicle, or refer to the owner's manual.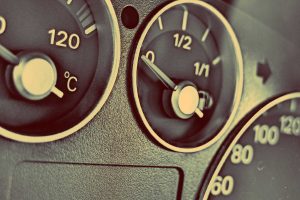 Will Flex Fuel help me save money?
If you're looking to save money on fuel this spring, you may want to consider other options before switching to flex fuel. For many drivers, the environmental impact and cost savings are not substantially higher on a flex fuel system.
The best way to save money at the pump is by increasing your vehicle's fuel efficiency – meaning getting more miles for every gallon of gasoline you put in your vehicle!
It's easier than you think – first make sure you keep up with the recommended maintenance schedule in your owner's manual. Preventative maintenance is the single best way to keep your engine running at its best, prevent problems from developing, and save money!
When you bring your vehicle to AM-PM Automotive Repair, our ASE-Certified technicians will thoroughly inspect your vehicle. Based on its condition we will be able to make accurate recommendations for the best services to improve fuel efficiency. To learn more or schedule your inspection, call us at 651-426-0462